Going to Chios
Actually, this is not my first time visiting Chios; I had visited for a few days. But it was a short trip and a long time ago. It was a good decision to have a detailed Chios holiday at the end of the official season and beginning of the off season, the best season for me. We had initially thought of a program with hoping on and off to other islands.But then we decided not to spend our time on the road and experience an island to its fullest. This was a very good choice; we have literally devoured Chios with its culture from its museum to its towns, its cuisine from local to fancy, its beaches from its facilities to its pristine beaches and all its roads!
8 Days in Chios
I am writing down the 7 nights and 8 days program we spent in Chios, item by item, so that it is easy to read… By the way, our travel date is October 2023:
Day 1
Ferry arrival 10.00
Leaving our stuff in our house
Spinach + juice + shopping at the bazaar
Settling in at home (14.00-18.00 Solving the Booking.com crisis)
Dinner at Dolphina costs 41 E 🙁
Day 2
Coffee at the castle:) (the best Greek coffee with mastic is here)
Tour inside the castle
Ottoman bath museum
The wind mills
Dinner at OYZEPI 36 E amazing Seafood 🙂
Home break
Live music and cocktail at the cafe in the castle; 16 E (2 pieces)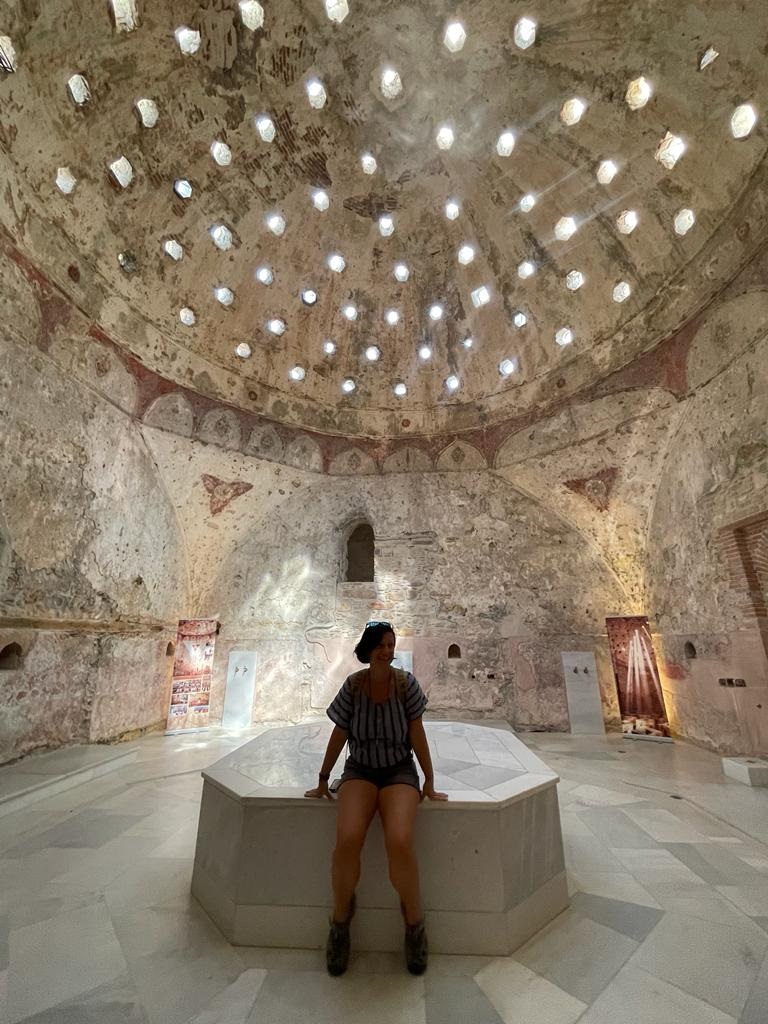 Day 3
Archaeological Museum
Long hike to the south
Dinner at Stou Giorgio; amazing mushrooms! 🙂 40.5 E (mushrooms, meatballs, Greek salad, sausage, honey and cheese fries, white wine 50 pcs) The market is crowded with families
Ginger beer in the market
Day 4
Car rental (25 E per day)
Going to Pyrgi… Coffee break, spoon mastic, sightseeing photo
Chios Museum and wonderful exhibition, exquisite view
Beach Mavra Volia sea sun beautiful
Dinner at Emporios with large portions 54E (squid, zucchini on skewers, potatoes, rusk salad, 3 beers)
Passing by car from Armolia on the way back
Cocktails at home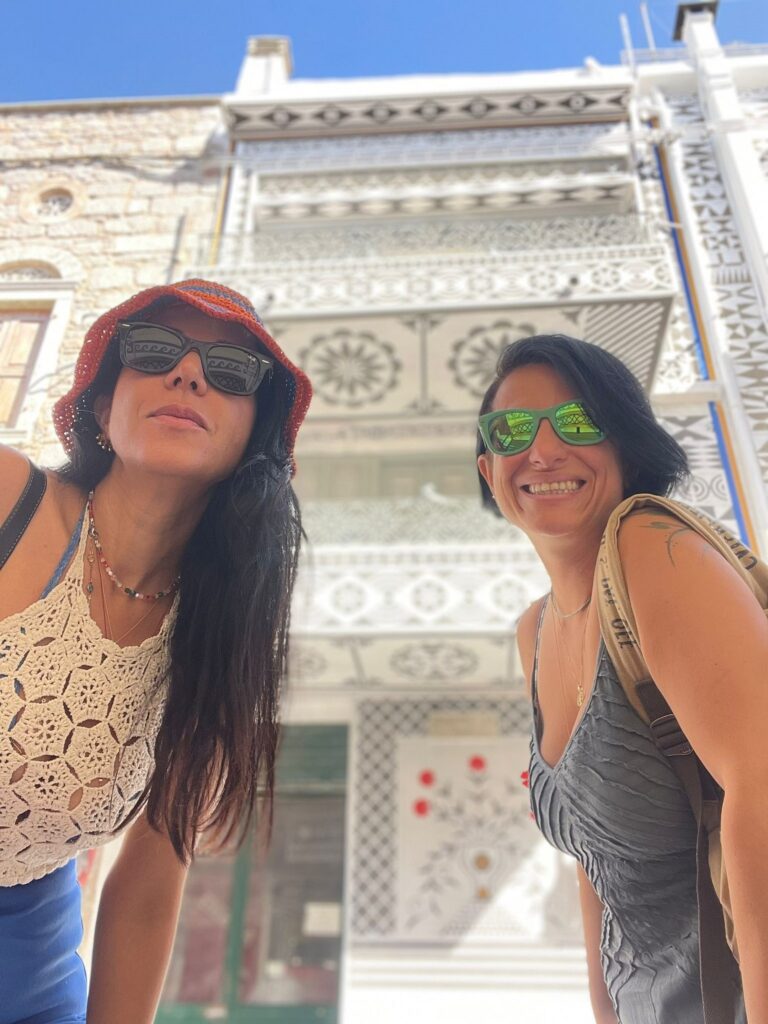 Day 5
Visit to Olympic village, coffee x 2 5 E
Mesta town, 14.5 E coffee x 2 and orangeopita + ice cream mastika
Break at the south west beach Paralia Apothika
Meal at Stou Giorgio 40E (pork bake, mushrooms, meatballs, Harmony salad, that) very quiet this time
Returning home and walking by the sea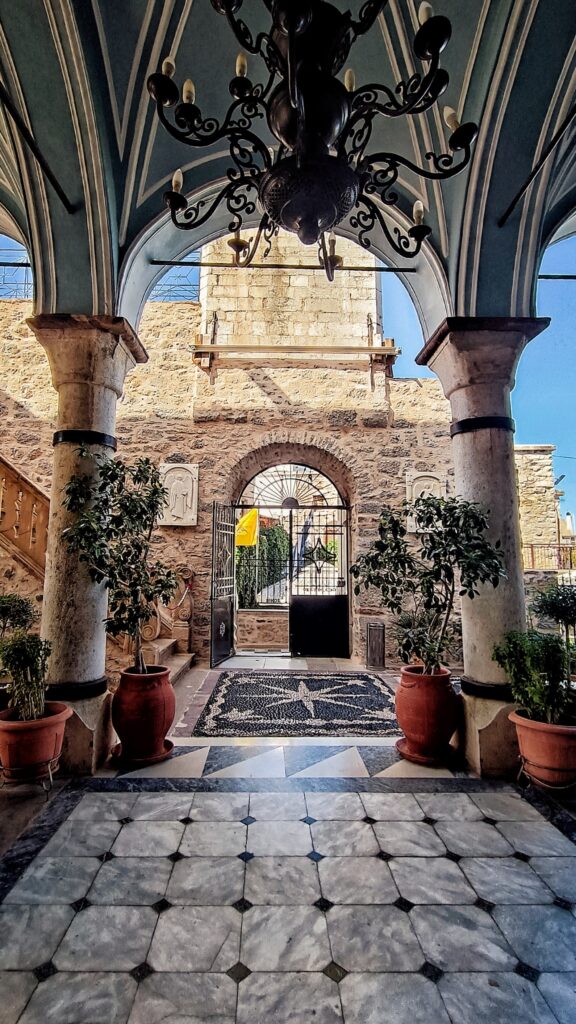 Day 6
Breakfast at home
Nea Mori Monastery
Abandoned town Anavatos, mostly closed with only one cafe
Avgonima village on the hill, coffee and dessert 7 E
Lithi beach, very windy snack Tria Aderfia 17 E (zucchini flower meatballs, herb boiled, white wine decanter 50 CC)
Return home break
Fine dining at Vradipus 22E (4 types of mini appetizers: rusk salad is delicious, goat gruyere is delicious, meat with sauce is excellent, fava + 50 CC white wine) liquor is served at the end, the presentation is wonderful.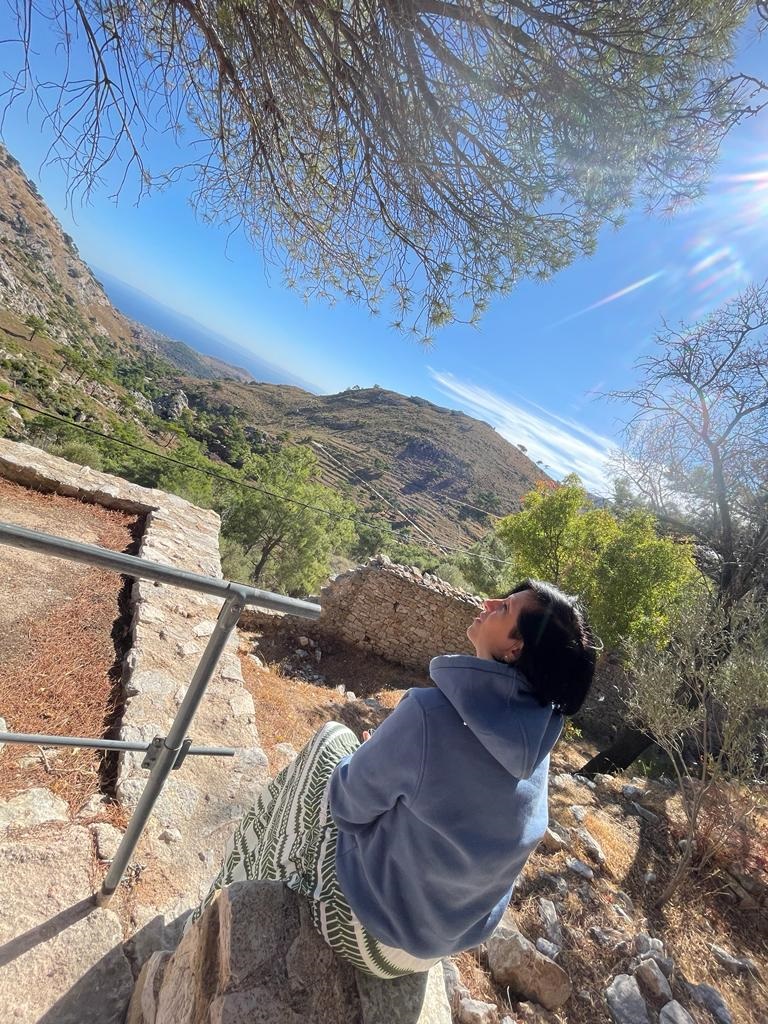 Day 7
Going to Volissos (rocky roads)
Coffee at the steep town entrance 7.3 E
castle climbing
Traveling north, stopping on the way Pitos town
North Bay Nagos beach, short swim
Meal at Lagkada village fish restaurant 37 E (fried zucchini, french fries, boiled herbs, grilled mullet, meatballs, ouzo for 20)
Return & grocery shopping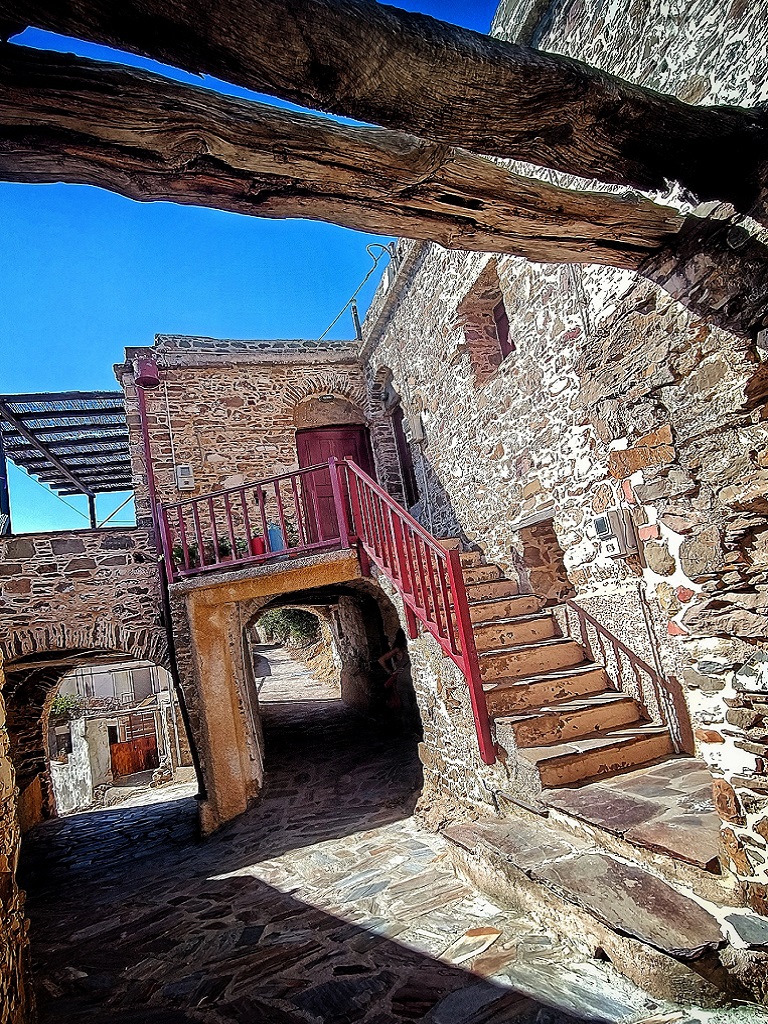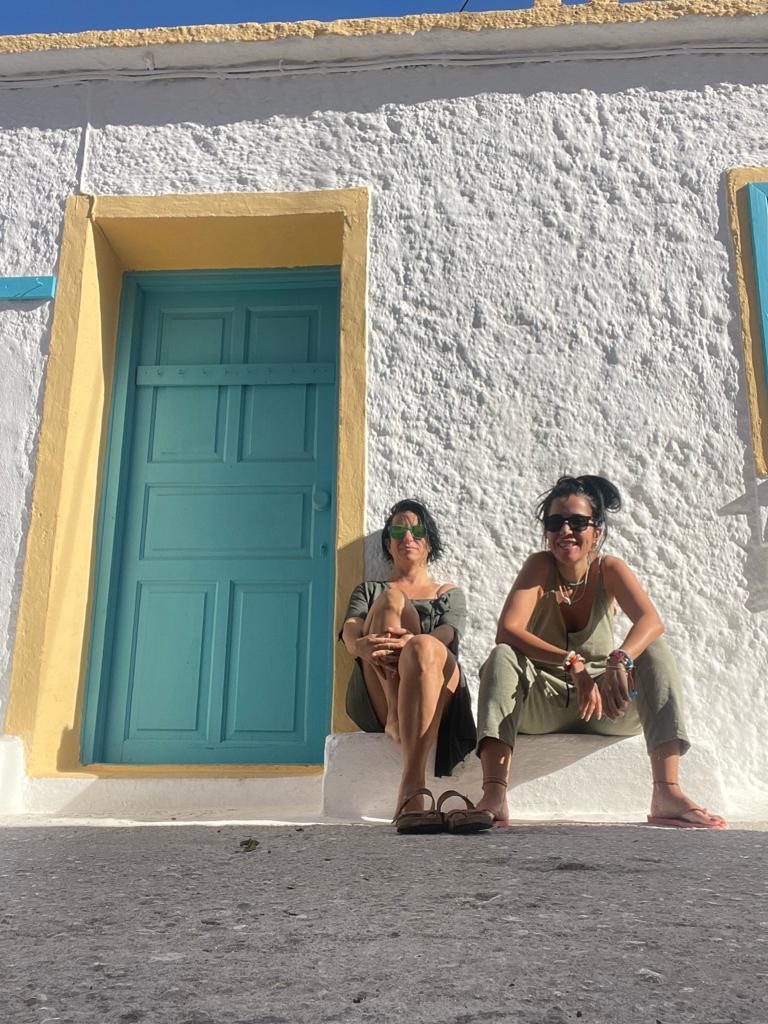 Day 8
Byzantine Museum
Citrus Museum 12 E coffee X2 + lemon cake
Agia Fotini beach break
Return ferry
Critical recommendations for Chios…
Again, instead of writing long paragraphs, I make notes in the form of do / don't or don't miss / you know how I will do it if I go again:
Accomodation
We stayed in a wonderful place called The Garden; I highly recommend it… It is in the center, right next to the bussy area, but in a quiet place. A wonderful apartment complex built by renovating an old settlement. The buildings are made of stone either original or with a renovated design that remains true to the original and they offer a real Greek island experience. The owners, Fotini and her husband are such hospitable and sweet people that we became friends. In fact, Fotini, who was learning Turkish, even studied together with my comrade Melike, a fresh archeology student.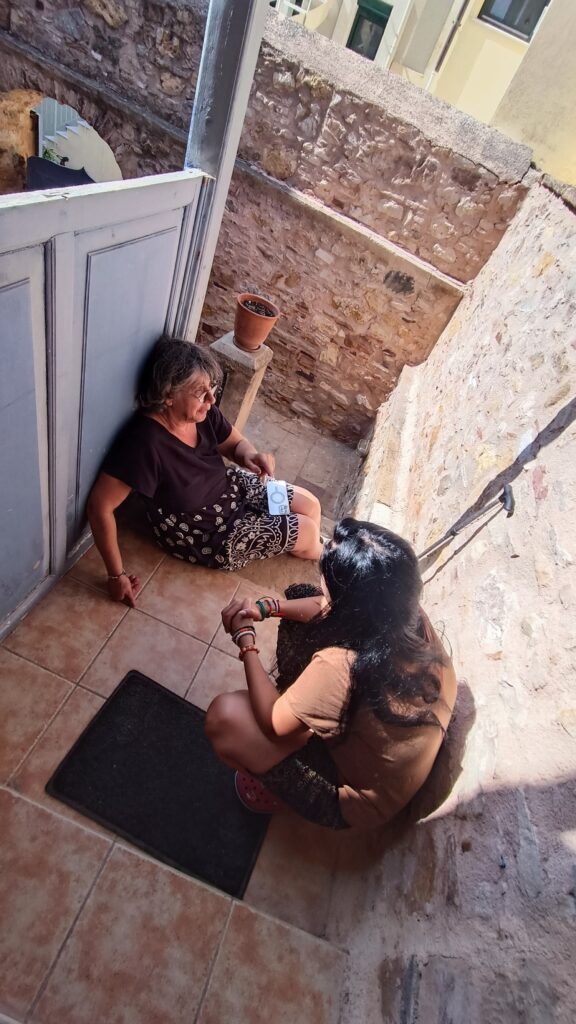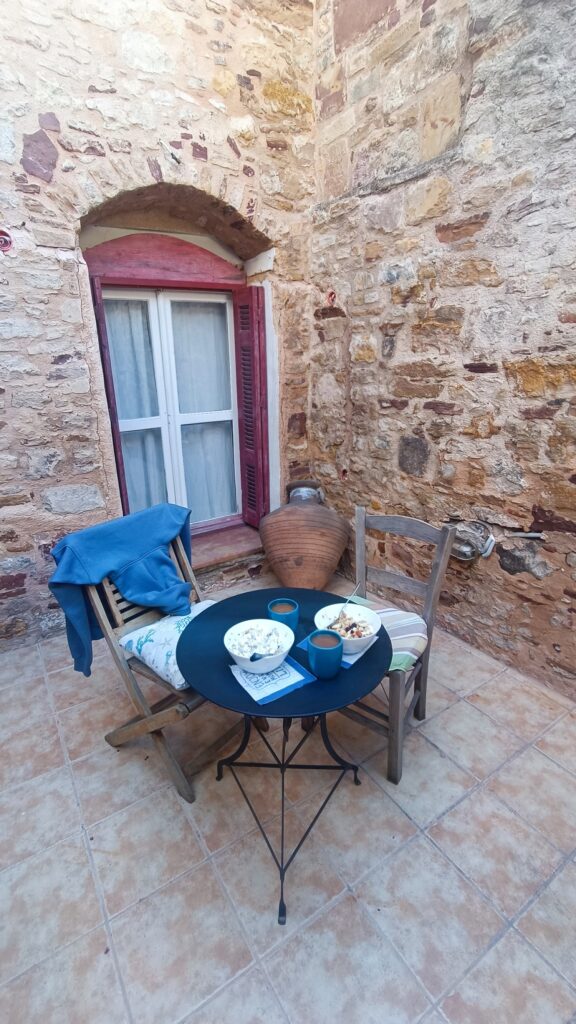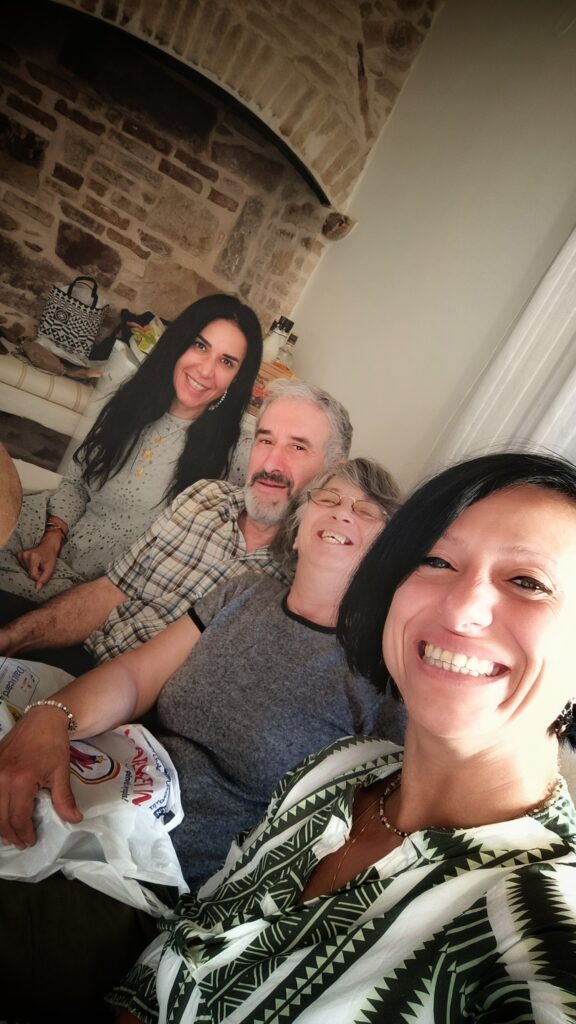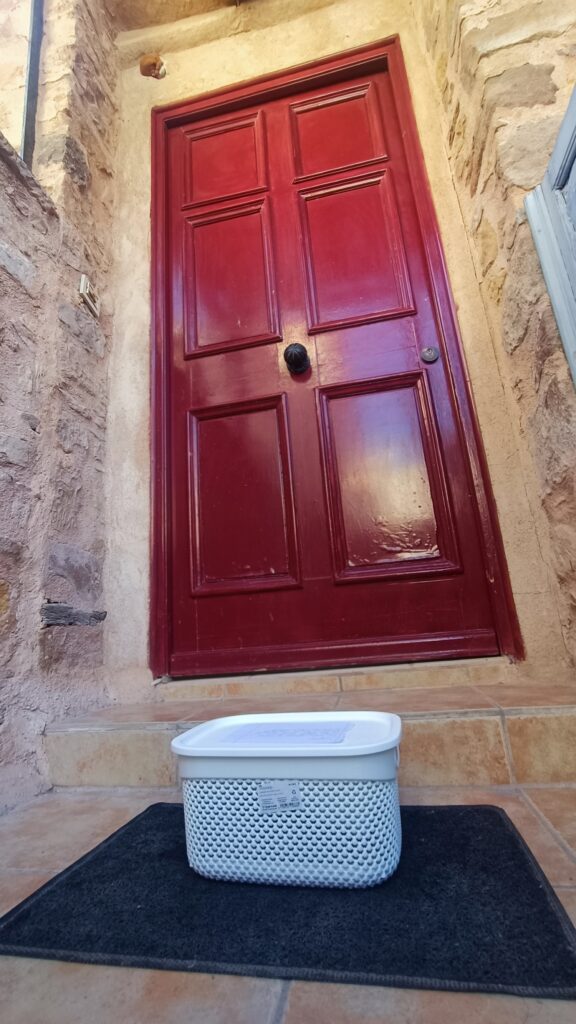 We made the reservation though Booking.com. But we are very unhappy; because we fell victim to fake accounts. We are very pleased with our accommodation and its owners, but we will not book our next stay through booking. They did solve the problem, but it took a few international phone calls and half a day of stressful crisis.
Food
Coffee in the Castle: There are 3 places in the castle overlooking a square as soon as you pass through the gate on the city center side. Two of them are restaurants and one is a cafe. It is always festive and lively, the service is reasonable, the prices are good and the taste is delicious.
NO NO NO Dolphina'… Oh my God! I don't advise at all, or go willingly…It is one of the places recommended on blogs and Instagram accounts. We went there on the first night because it was the most popular of the few seaside taverns. Some of our orders were terrible, some were mediocre, and some were plain good. For example, the calamari was unchewable; I have never eaten anything as bad as this in any restaurant on a Greek island. Shrimp was good, the mussel saganaki was not bad. The price wasn't bad overall but not worth it; I experienced ten times the taste with that budget or even less.
I do recommend the only restaurant near the mills: OYZEPI. It has a very simple but efficient menu system… You either choose seafood or meat, and choose what to drink with it. The rest comes from the appetizers of the day, like a fixed menu. Everything was delicious, from fava to sardines, from fried anchovies to cheese saganaki, from salad to shrimp. Actually, 25 Euros for a menu with wine for two would be enough for us… But when you eat two meals a day, you get hungry. There is also a greed for seafood that comes with being new to the island. We got up to 36 E2 with extra double cheese and salad. .
Stou Giorgio is the place to eat! . It is a 5-minute drive from the center and a 20-minute walk away, but it is a family business mostly visited by local people. It has a nave view overlooking Chios. But the main thing is taste! I have never eaten such magnificent mushrooms in my life. It was so good that we went a second time… here are two different menus: 1 – 40.5 E with mushrooms, meatballs, Greek salad, sausage, honey and cheese fries, white wine 50; 2- baked pork, mushrooms, meatballs, Harmony salad, 40 E. But it gets crowded on weekends, you may want to reserve a seat.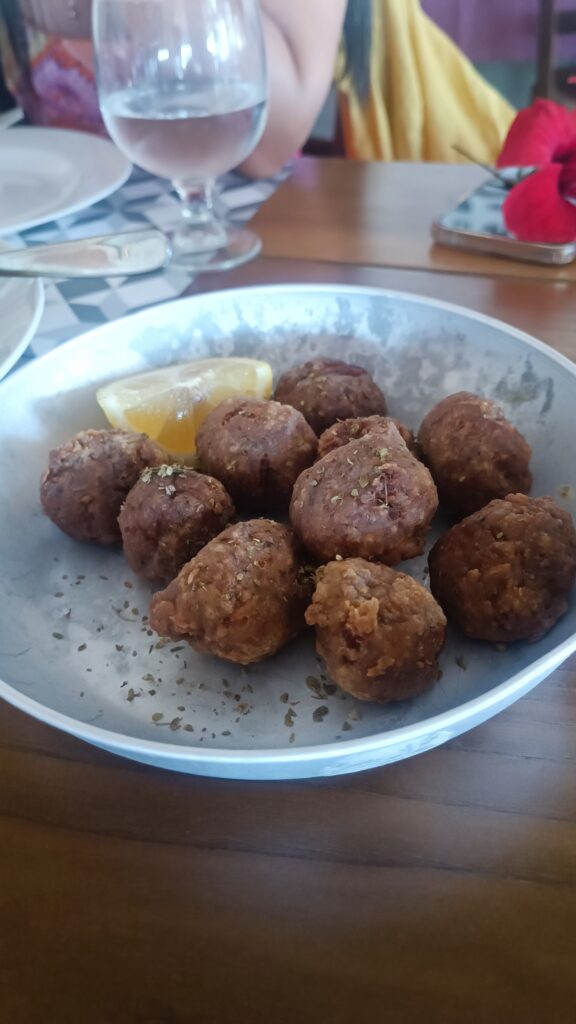 Another special Chios experience was Vradipus; It is a fusion option that combines Greek cuisine with modern inside the castle and tastes like fine dining. I think whatever you eat is amazing.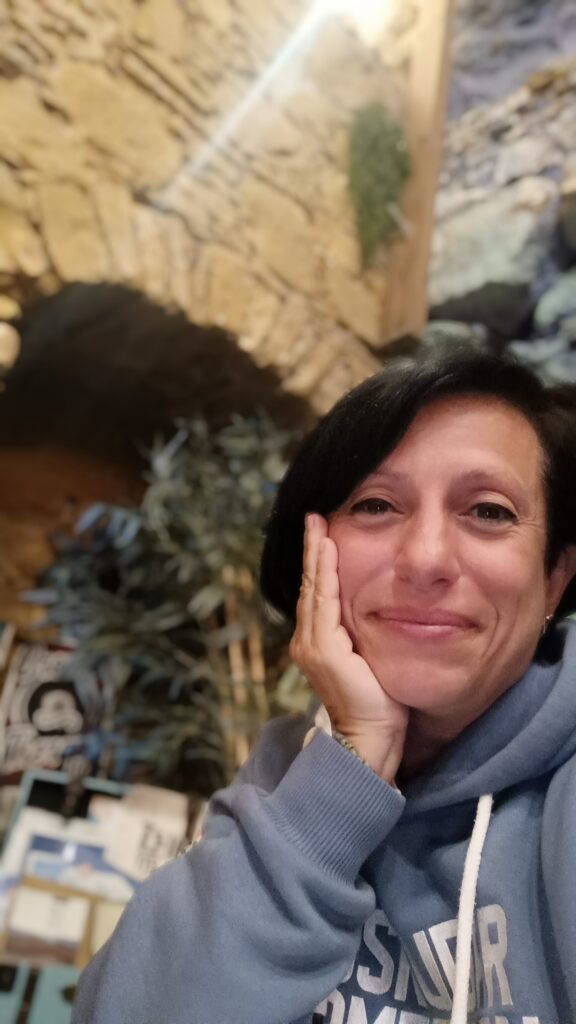 There is a small fishing town a little north of the center: Lagkada. There were few open restaurants here when we went, I guess there would be a little more in the season. Everything was very fresh and delicious; but the tabby was great.
We decided to eat there when we got hungry at the exit of Mavra Volia, the famous volcano beach. It was the most expensive meal we had on the island. But the portions were huge. At Emporios, we paid 54 E for calamari, skewered zucchini, potatoes, rusk salad and 3 beers. Baby squid and fried skewer zucchini were legendary. I had the opportunity to try Chios beer here; I like it.
Since our west coast program ended early, we sat down for a snack rather than a full meal in the only open place on Lithi beach called Tria Aderfia, we had zucchini flower meatballs, boiled herbs, and a carafe of white wine for 17 E. It was a good taste / price parity.
Touristic Towns
Pyrgi… One of the two most famous towns of the island; a must see!
Olimpi… It's near Pyrgi and it's a very sweet town, so when in Rome!
Mesta… The apple of the island. It's a bit touristy but it deserves it.
Nea Mori Monastery... It is worth it to climb the tapes in the middle of the island and the view is exquisite.
The abandoned town of Anavatos… Its magnificence can not be seen from the photographs. It is a very different kind of settlement; but unfortunately most of it is closed to visitors due to restoration. But I do recommend taking it into the program.
Volissos… We were expecting just another stone town. But it made us very happy with its hilly roads, castle overlooking the western coast and surprising streets.
Avgonima… On the way to Anavatos and the western route. You can stop by for coffee, the whole town takes less than an hour to walk.
Pitos is a small town on your way north… A sweet break if you happen to pass by.
Museums
Chios Museum… I did not expect such a pleasant site; I'm glad we went! Both the modern buildings, the space arrangement, the view and the show content are wonderful. They have shown everything about the island of Chios and Mastika in a very beautiful, compact and enjoyable curation. I think you should definitely go. Moreover, it is on the Mavra Molia road from Pyri! Entrance is 4E but worth it.
Archeology museum... Worth going for those who are interested; But it pales in comparison to what we have in Turkey. Entrance 4 E.
Citrus Museum… Actually, we did not visit the show 🙂 But it is such a beautiful building and campus that we spent hours there. There is a very cute cafe in its garden; Delicious menu too. It is a private museum converted from an old mansion. A great stopover point on the southern route.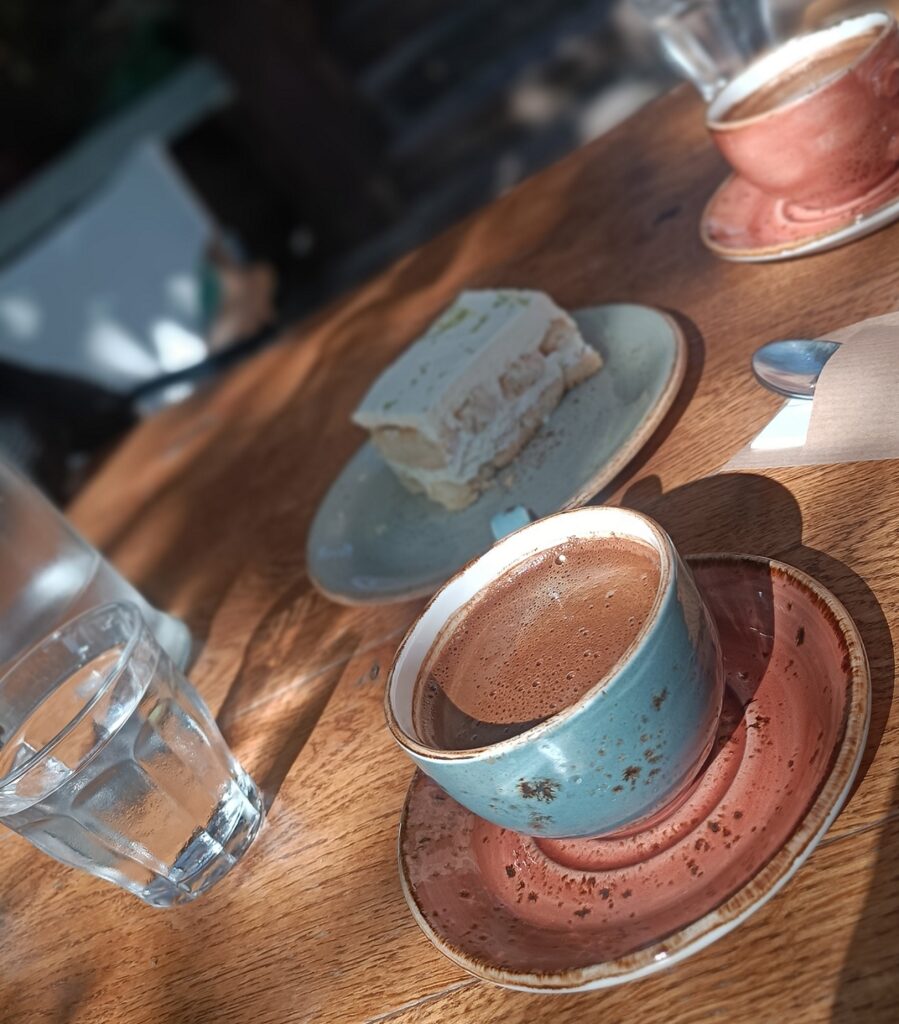 Byzantine Museum… We looked through the door and came back. Nothing much, unless you have a very special interes, there is no need to enter (4E)
Beaches
Mavra Volia beach is legendary… It was this place that I remember the most from my first visit to Chios. Because it has a beach made of volcanic black pebbles and a beautiful sea.
A beach called Paralia Apothika in the southwest. We took the southern route for a sea break; 15 minutes away from Mesta. Normally, there is a cable car from the facility on the cliffs to the beach for service; but when we went there was no one there. You can even discover your own private untouched beach if you explore the cliffs on one side of the beach.
Lithi beach… One of the most popular on the west coast. Indeed, there is a sweet sandy beach and facilities. But the day we went, we encountered a storm; so no swimming for us
Nagos beach, one of the northern beaches… One of the many small beaches facing north. It is located inside a small settlement. There were three or five people; but I'm sure it's a popular place in the high season. The sea is pebbly but deepens quickly, it is a pleasant swim.
Agia Fotini… This is a popular beach with facilities, close to the center. The pebbles are a beautiful shade of beige here. The sea and the beach are nothing special, but we were very happy to find comfortable wooden sun loungers and bamboo umbrellas to lie on in the off-season, and there was even a beverage service.
.Other Notes:
Each restaurant comes with a large set of water and bread, which costs approximately 1.5 E for water and 0.5 E for bread per person.
We are very happy to stay in the center and in a unique place. We were able to go everywhere easily (the longest distance on the island is 1 hour) and we were happy to come home every time.
There are usually ferries to the island in the morning and evening (35-40 minutes from Çeşme). In order to use the day efficiently, departures in the morning and return in the evening are generally preferred. It gets crowded in season; But off-season entry and exit is easy.
We spent the first two days on foot to enjoy the centre; We rented a car for the last 5 days (25 Euros out of season is the best we've paid so far). I would recommend it, especially on these last days, unless you choose to stay somewhere else or come with your own vehicle. This way, when you check out from where you left off in the morning, you can put your belongings in the car and enjoy the day wherever you want.
What should we buy from Chios…
I don't think there's much need to think about it: MASTİKA! Fifty shades of mastic, to be more precise… 🙂 You can buy the mastic pure, so I can put it on everything at home. Or you can try options such as tangerine or orange. Or you can try the jars with all kinds of jams (I bought the peanut jam just out of curiosity). Of course, there are also masticTurkish delights, mastic drinks, and mastic desserts. But we were surprised that nobody tried to make mastic pudding! You will have to eat it in the form of a paste with a spoon (sometimes in ice water).
As for alcoholic beverages… There are also Ouzo varieties here; We chose the bottle we had drunk at a restaurant and liked. But Chios does not have a deep-rooted ouzo culture like Lesbos. I liked the Chios beer very much; I advise.
Pyrgi patterned bags are number one in souvenirs… Of course, there are various variations of these. Keychains, mirrors, mugs and all sorts of odds and ends. I prefer the souvenirs I can use; That's why I bought a cloth bag. There is a gift for everyone's taste and budget.
The sum of it…
As I told you, we had first planned a tour of the islands with my companion Melike. But after a busy summer schedule, we wanted a more relaxed pace before heading into winter. We did not want to spend most of our time on the road, as ferry services became less frequent as the official season ended. In short, it seemed more attractive to Chios upside down.
And that's what we did!… I think there is no road or geography of Chios that we haven't seen at least once. We spent the first two days in the center and digested the island culture with all its streets and museums. We did the southern route twice, which is well deserved as there are very popular destinations here. In one day, we crossed from the middle to the west and explored the hills and west coast. We devoted one day entirely to the north, which was a good idea. We encountered a completely different face of the island nature. The dense stony terrain here has a different fascination. We reserved the last day to complete the bonus and enjoy the seaside.
Thanks to its proximity to our lands, Chios is one of the islands that we Turkified to a certain extent… When the transportation is so easy, of course there are many Turkish visitors. Accordingly, you can sometimes see tactics stolen from our water-savvy tourism professionals… Such as offering paid water and bread to every table. In some faces you see the sadness, remembering the time when we were all together, and in some you can see the tiredness. For example, the man sitting at the place where we rented the car, originally from Gökçeada, was telling us how he escaped from the Turkish military.
But the real issue is, will we meet on our common ground or will we fall apart from our differences? One of the two things that touched me the most was the temporary special exhibition at the Chios Museum… The feeling of being in limbo described by the Greek immigrants who came to the island from the mainland after the war. In other words, the sadness of being neither from here nor there was depicted. The other impression is the way our hosts embraced us… One is the accountant son of a carpenter father from an Egyptian immigrant family. The other is a big-hearted woman, a Macedonian immigrant with Spartan blood. The two met and fell in love while studying at university in Piraeus. The man's eyes shine as he looks at his wife; the woman lights up the room with her smile. The doors they made with their own hands and the breakfast basket they carefully prepared for us also tell the story. They sent us off with the words "Stay one more night with us"… I will go to Chios again just for this feeling of "if you combine your dreams with your effort, you can build a palace". But I will also eat the squid, the shrimp and the octopus! 🙂