Departure to Ikaria
I had heard good stories about İkaria for many years and finally I set out to visit. There is no direct passage from Turkish ports to Ikaria which is one of the Greek islands near Turkish mainland. Therefore, some detailed planning is required. But it is not very difficult; because, thanks to our neighbor there are frequent, comfortable and economical ferry services between the islands at an optimum schedule.
The easiest jump to Ikaria is from the island of Samos; Kuşadası port is the closest to it from the Turkish side. I had bought a ferry ticket to Samos online (bilet.com) before, but ticketing and check-in was done by Meander Turizm, right next to Kuşadası port. For the Ikaria visit, I tried to buy online again; but the ferries from Turkey to Samos arrive at two different ports and the ferry from Samos to Ikaria has a different port (yes, there are 3 ports in Samos and two in İkaria). I had a hard time navigating the ferry-to-ferry crossing puzzle. Then I decided to ask Meander Travel who also organizes Samos tours. Thanks to them, they solved it fast and professionally. Moreover, it did not make much of a difference on the price I would have paid for the combined tickets if I bought them myself! We also wanted to stay overnight in Pythagorion on the way back to Samos too. In the end, the ferries were like this:
Departure: Kusadasi – Samos (Vathi Port) morning departure; bus transit to the port of Karlovassi; Samos (Karlovassi Port) – Ikaria (Evdilios Port) afternoon crossing
Return: Ikaria (Evdilios Port) – Samos (Karlovassi Port) departure at noon; by bus crossing first Vathi and then Pythagorion; the next evening Samos (Pythagorion Port) – return to Kusadasi
Meander Travel location: https://goo.gl/maps/zeEYE4pzT82NbMheA
Meander Travel English site: https://meandertravel.com/
Meander Turkish site: https://samosaferibot.com/
The ferry ride was smooth and enjoyable as expected; We didn't realize how time passed because of the excitement. But we waited a long time at the passport control at the entrance to Samos. As we were not one of the first to jump into the port via sitting in the back of the ferry and waiting for the saute as soon as we approached, we were able to enter the island after waiting for about 1 hour in line. I cannot say that you should be smart about this; because while waiting for the bus, there is not much to do in Vathy at noon except to sit at the port and drink cold coffee. So we did; we relaxed a bit by taking advantage of the sea breeze in a cafe close to the bus stop. But first we checked the bus times; although the tariff is not very variable, I recommend you do the same because there may be changes and special circumstances from time to time.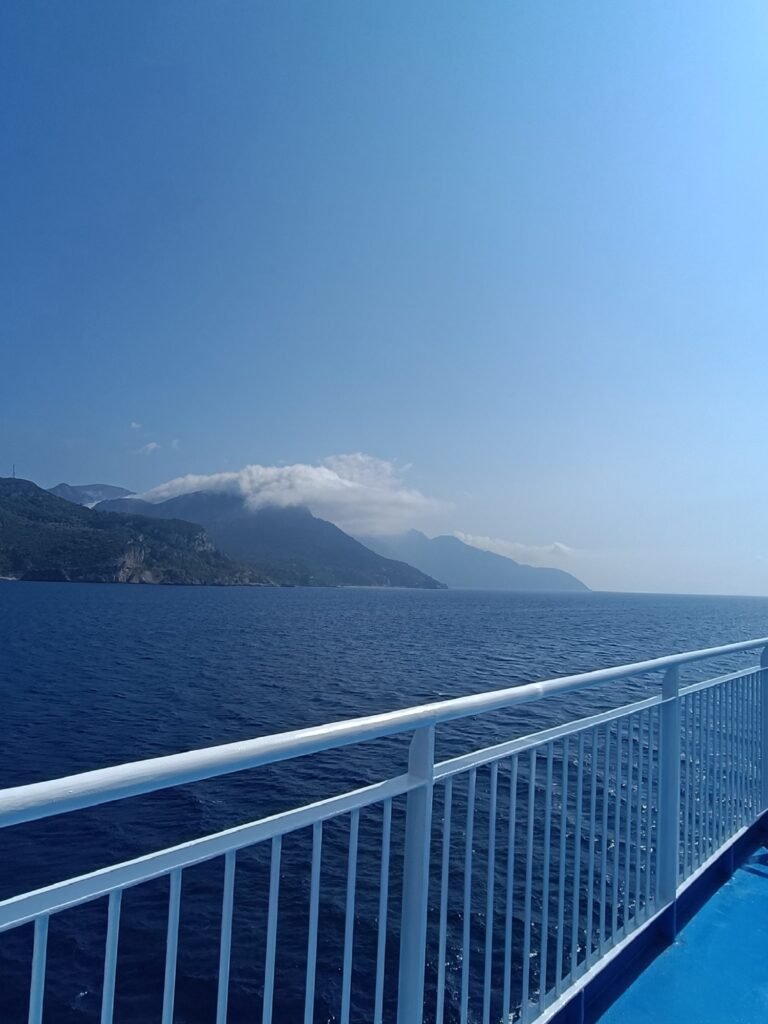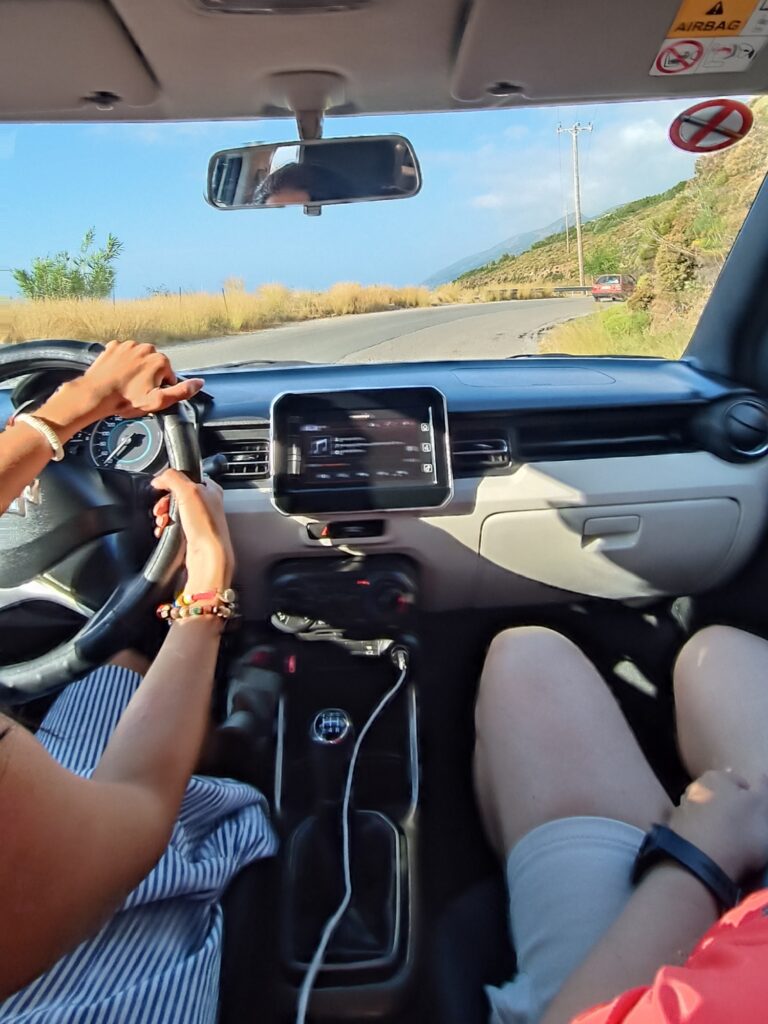 It takes about 1 hour by bus from Vathy to Karlovassi and you can enjoy the ride as the road passes through a pleasant route by the seaside. Since we arrived a little earlier than the ferry hour, we cooled off with Frappe again. There are not many places to wander in Karlovassi anyway. Also, many shops are closed at noon due to siesta. When the giant ferry, which departed on time at 16:25, arrived early to the port, we thought it was not our ride. But it turned out that this huge blue ship would be our vehicle, jumping between the islands and carrying passengers to many destinations including Mykonos. We were very comfortable on this huge ferryboat with multiple floors (only for 2 floors of vehicles), air-conditioned saloons and huge indoor and outdoor terraces, and we enjoyed watching the northern shores of Samos and Ikaria. We arrived at Evdilios just in time.
We had made a reservation for car rental in advance… I would definitely recommend it because there are limited cars on the island and it's not worth the risk of being empty handed or getting a junk ride. We took our vehicle from the office, which is within walking distance of the port, and set out for our house in Therma, on the south side of the island, about 1 hour away. No extra payment was required to include the second driver. During the holiday, we were comfortable using the narrow and winding roads of the island in this way.
5 Days in Ikaria 1 Day in Samos
Instead of writing long sentences, I am summarizing the gross 5, net 4 days (roads eat half a day or more) and the net 1 night 1 day program in Samos so that it is easy to read… By the way, our travel date is July 2023:
day 1
9:00 – 11:30 Kusadasi – Samos ferry ride & passport control
11:30 – 13:30 Cold coffee break at Vathi port in Samos
13:45 – 15:00 Vathi – Karlovassi bus ride (5 E / person)
15:00 – 16:15 Karlovasi cold coffee break
16:25 – 18:00 Samos Karlovasi – Ikaria Evdilios Ferry ride
18:00 – 19:30 Car rental from Evdilios & departure to Therma
19:30 – 21:30 Dinner at Agios Kirykos (Seafood & Island Goat Cheese Roast – 3 people 60 E)
21:30_ 22:00 Transfer from Agios Kirykos to Therma (15 min) & settling in the house
22:00 – 23:00 Ikaria beer on Therma beach (award-winning but eh)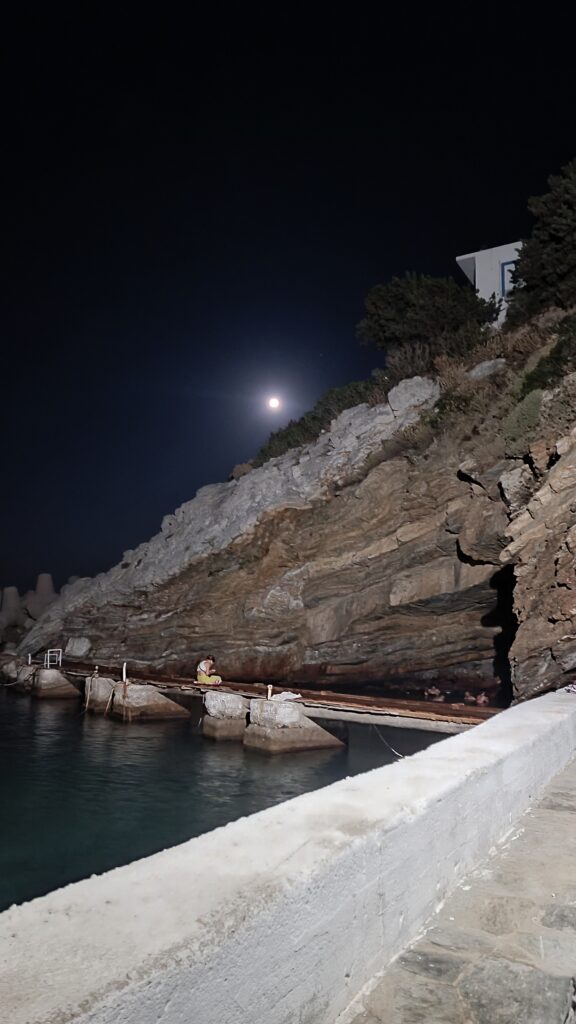 day 2
Enjoying the sea in the morning in Therma thermal waters (hot springs in a natural cave-like recess) and in the bay
Breakfast at Kritikos Estiatorio on Therma beach
Driving to Seychelles Bay (1 hour horse)
Walking and sea break from the parking lot to Seychelles Bay
Visit by car to the next town and a cold coffee break
Driving to Icarus Rock and greeting to Icarus from the rock (entering the sea)
Continue on the south coast – cooling off at Paralia Xilosirtis beach
Dining in the same place at Arodou Tavern (Seafood, island cheese, fries & legendary local wine – 3 quiche 63E)
Return to Therma and the bloody moonrise course
day 3
Enjoying the sea in Therma thermal waters and the bay early in the morning
Journey through the mountain roads in the middle of the island from Therma to the north coast
Arrival in Raches town and breakfast & dessert (Amazing sweet & organic purchase from women's co-op)
Raches Town tour (not very sweet at noon, 1-2 hours is enough)
Armenistis car ride (30 min)
Great snack at Mouragio Tavern in Armenistis (fries with fries, fried cheese, fried zucchini, yellow pan bread & Mamos beer)
Transition to Nas Beach, parking the car and going down the stairs & enjoyment at the beach (very strong current and wave, it's better to play in the sea than swimming, but it's very nice & there are people who hang out naked, it's free)
Transfer to Karimalis Vineyard for sunset and dinner (vegetarian fix menu & 1 glass of wine 35 E/person – they make everything from their own produce, a sweet team especially the host lady and our Spartan waitress)
Night cruise to Therma & Full Moon
day 4
Early departure from home due to pests and calming in thermal waters in Therma
Coffee break at Kritikos Estiatorio on Therma Beach (two sunbeds cost 10 E)
Transition to Evdilos port and town tour (1-2 hours is enough)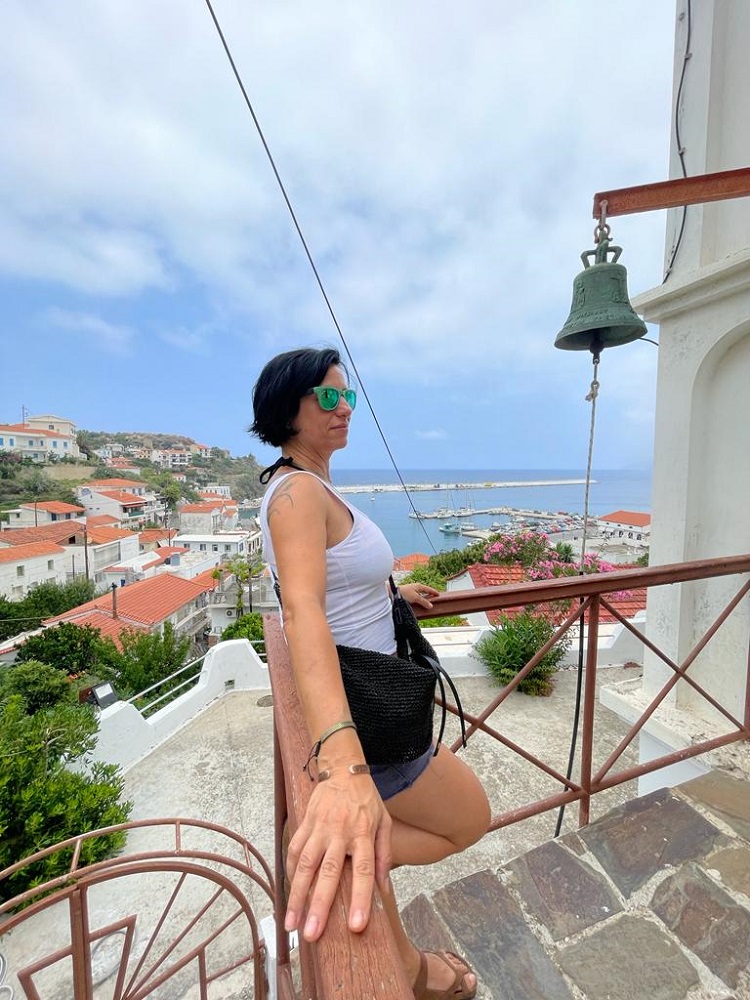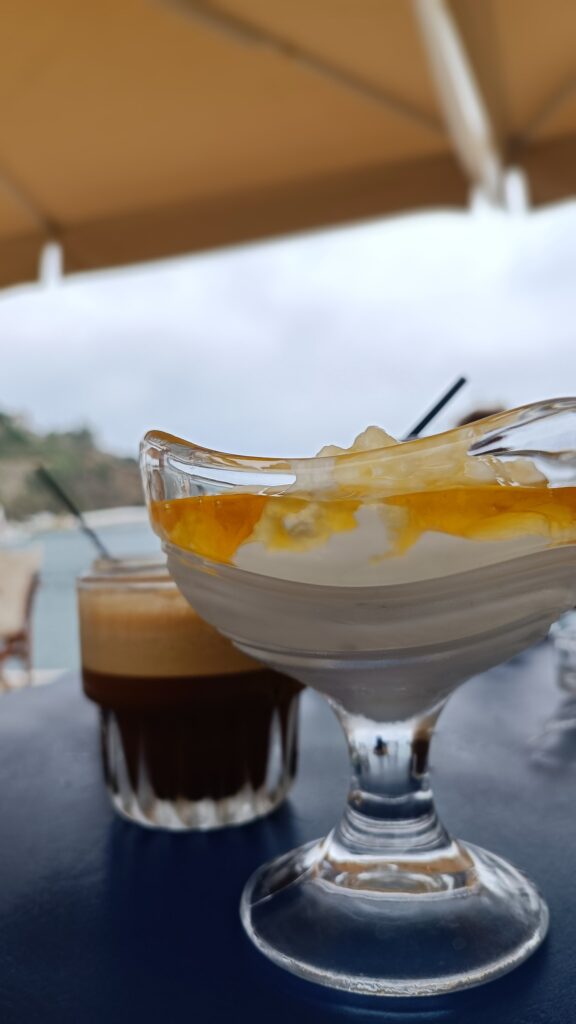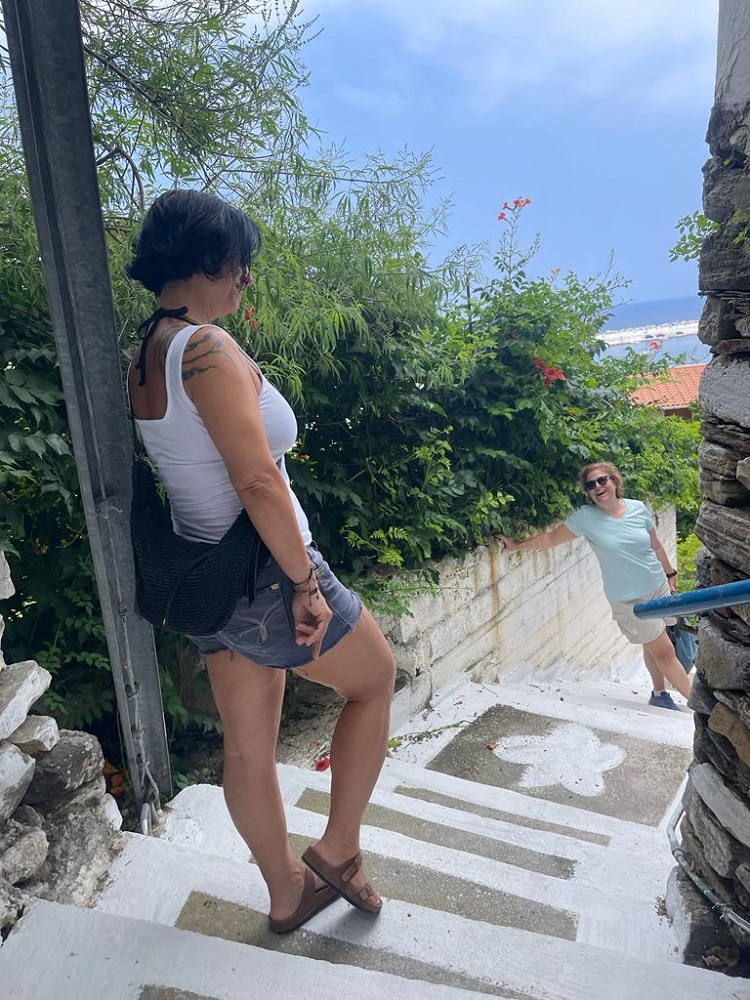 14:30 embark on the ferry and transfer to Armenitis
Room rental at Kirki Rooms family business in Armenitis (small double room 40 E with no view – clean and very pleasant seafront communal terrace)
Sea break at the small beach of Armenistis
Fabulous meal at the Mouragio Taverna in Armenitis (wonderful roast honey cheese with kadaif, roast zucchini, delicious hot yellow pan bread, kiddo stew with noodle rice, amazing scalloped caviar & local white wine – 2 people 38E)
Enjoying the terrace & sleeping pipe at the hotel
day 5
Enjoying the sea at Armenistis small beach
Transfer to Evdilios at noon and vehicle delivery
14:30 ferry ride to Samos Karlovassi port (approximately 1 hour)
Karlovassi – Vathi bus ride (approximately 1 hour – 5 E/person)
Bus ride from Vathi to Pythagorion (approx. 20 min – 1.7 E/person)
Settlement in Hotel Pegasus (a medium-sized clean and well-maintained hotel that remains retro with old furniture – double room 80 E for 1 night)
A pleasant tour in the streets of Pythagorion & delicious ice cream (everyone is very stylish and well-groomed here, also the weather is very positive)
Shopping at the bazaar (there are boutiques with beautiful original designs and stores with affordable linen/silk dresses)
A wonderful dinner at Mermizeli Restaurant (a delicious modern twist on traditional Greek cuisine – Salad with Mermiz, grilled swordfish with amazing basmati rice, garlic bread, grilled vegetables with local cheese called castle & 20 ml Hera Ouzo – chance to meet the owner Maria – 2 people) 65 E)
Return to hotel and lay down pipe
day 6
Get up early and go to the ancient ruins of Pythagorion Heraion (taxi 13 E) sightseeing in the area (entrance 6 E / person) & salute to the goddess Hera
Visit to the monastery of Panagia Spiliani and the holy cave behind it (taxi 14 E from Heraion)
Walking down the monastery and arriving at the beach
Enjoying the sea by the ruins of Pythagorion
Pythagorion castle museum, basilica and other ruins tour
Cold coffee break in the bazaar
Shopping & transfer to hotel, meeting
Pythagorion – Kusadasi journey by 18:00 ferry (approximately 1.5 hours and if the sea is choppy it is shaky)
Critical advice for Ikaria…
Again, instead of writing long paragraphs, I make notes as if I go again, how would I do it / don't or don't miss it / you know:
Armenitis is our favorite for accommodation in Ikaria. Therma was also beautiful, but the north sea is a bit more pleasant and northern towns are a bit more comfortable and relaxed as they are used to tourists.
We said that you must make a reservation when renting a car. And please follow the advice given to you, not google maps! Some of the mountain roads guided by our navigation were dusty dirt, even rocky, and we were able to proceed very slowly. In general, the coastal road from the north and south of the island is popular, some of the ones that pass through the mountains in the middle of the island are good and some are not.
Dinner at Agios Kirykos one evening in the south is recommended. We couldn't reach the archeology museum, you can try it too. In addition, there are jumps to other islands from here… We are planning for next time.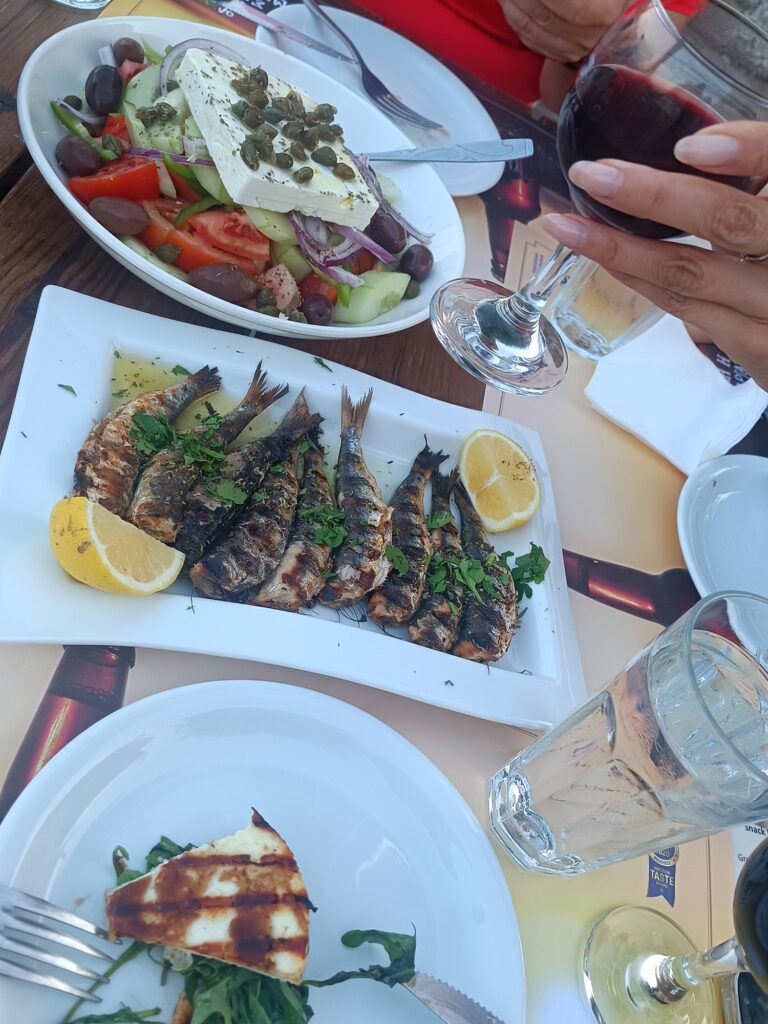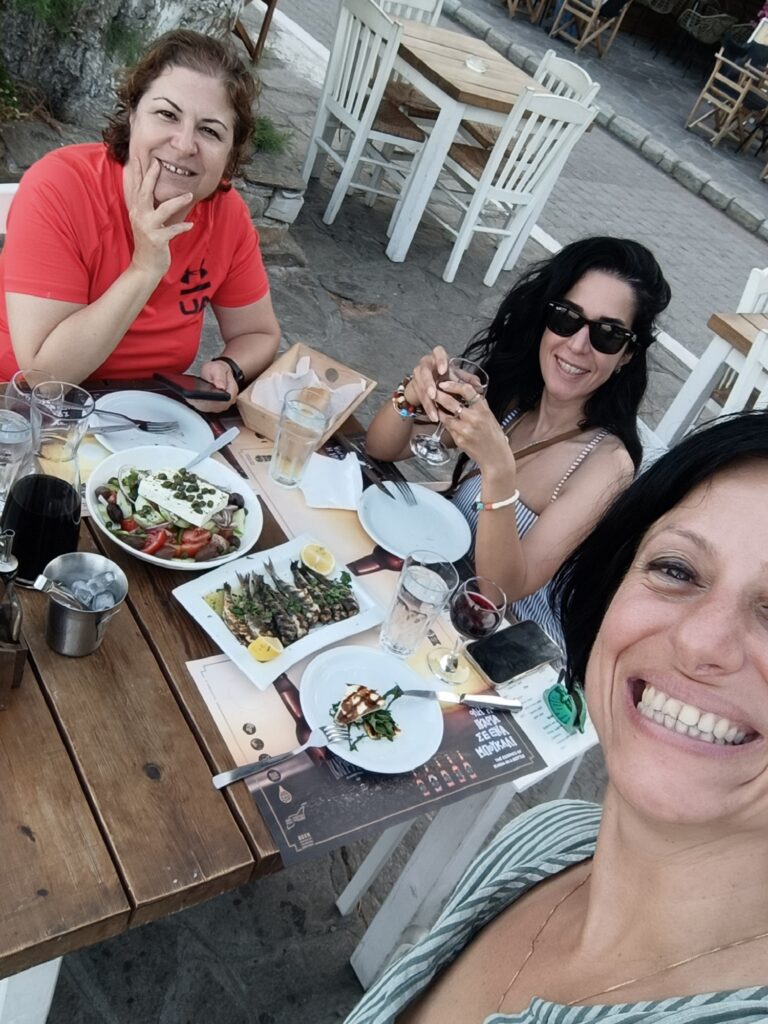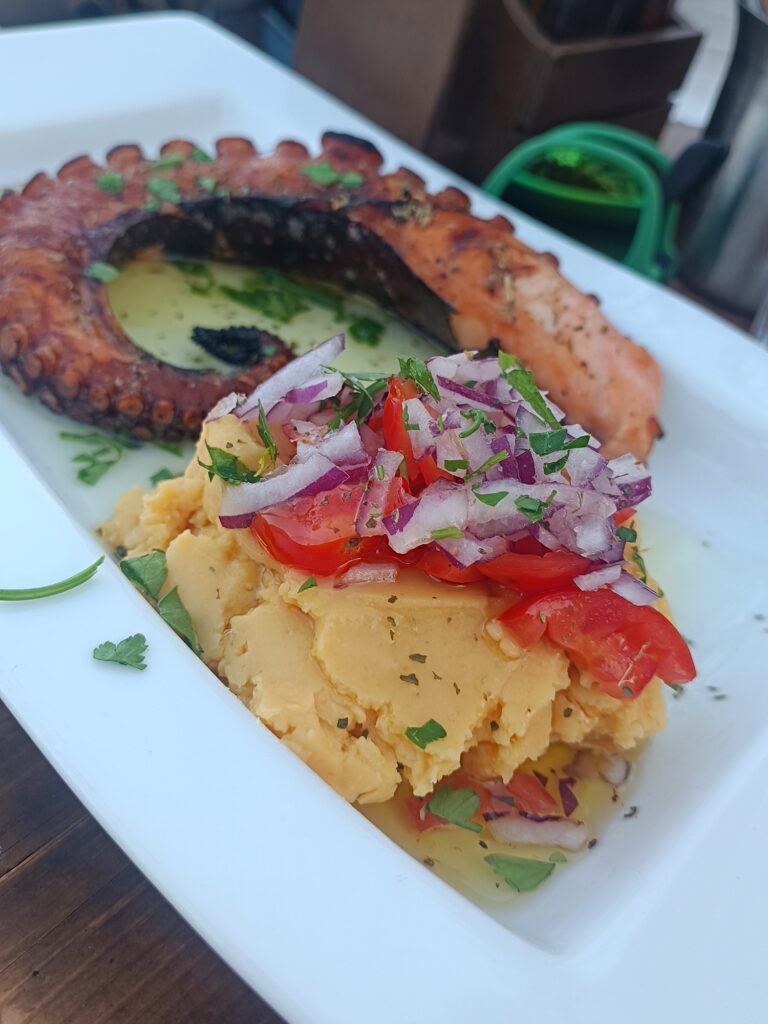 I recommend you to swim in Therma thermal waters and this sweet little bay in the morning. It's a pleasure to spend half a day there. Actually, it's not bad for a stay, but it's a bit far from other locations. But that hot water in winter or autumn would be great!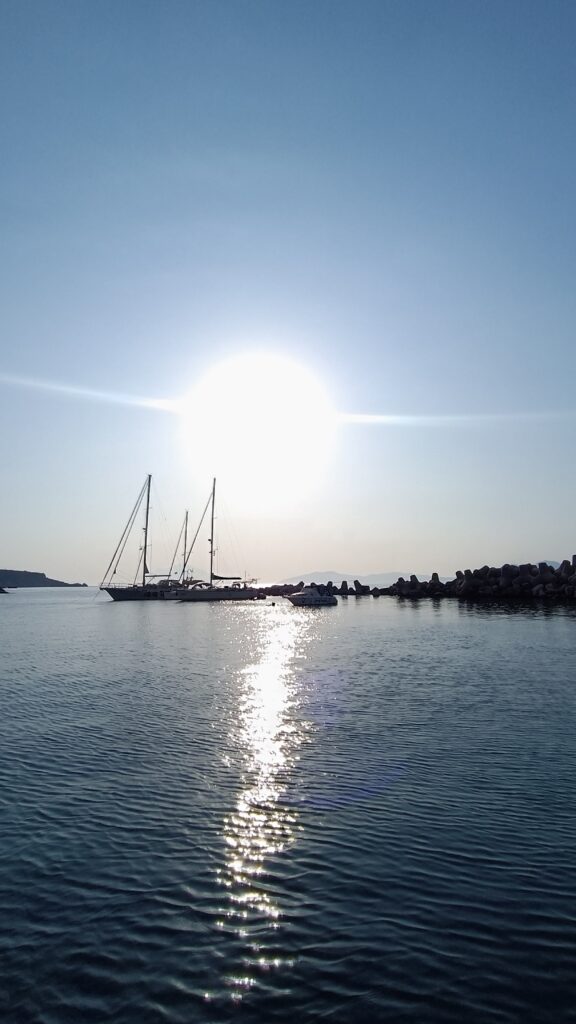 Seychelles Bay is the most famous place on the island… Everyone writes, draws and tells about it. Yes it is very beautiful; But I don't think I will die if I don't see it again. Also the hiking road is a bit rough, you can't go with slippers; You have to climb down from pretty rocks to the tiny cove. And the main problem is that there is no shadow except for the rock that creates a huge cave. But it was already crowded when we went at noon. The water is truly exquisite and the colors are turquoise & fifty shaed of blue… But you have to go early in the morning or in the afternoon; noon time is tough,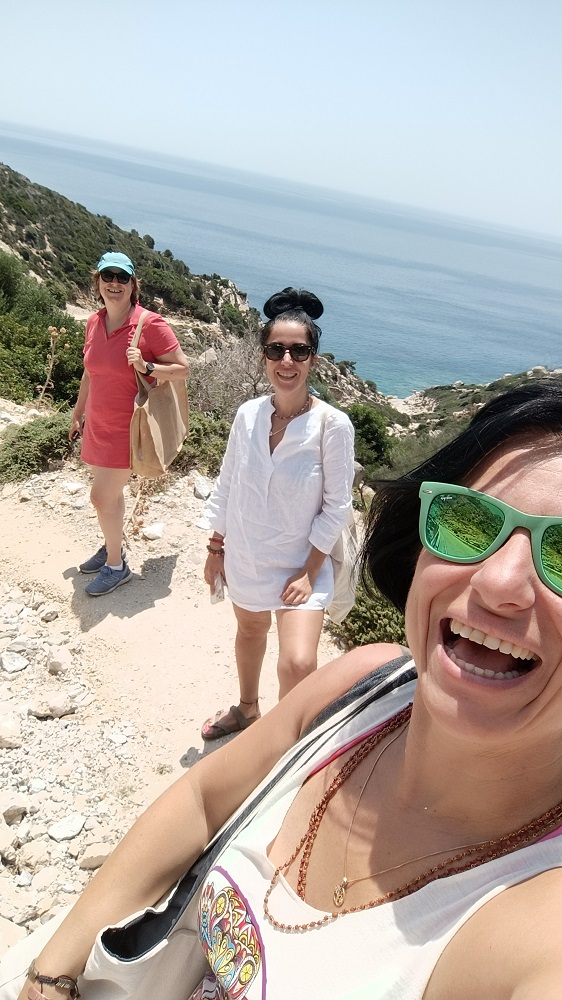 Many people have written that there is nothing important to see in Icarus Rock… I don't think so. As the mythological story that gives the island its name, the energy is very intense here. White stones like marble, natural rocky structures are very impressive. Also, a festival area was built in front of the Icarus rock; it would be great to come across an event there.
On the south coast, Paralia Xilosirtis beach is a modest but delightful place that can be overlooked. The sea is very pleasant, there is a pier-like extension where you can jump into the water from the natural rocks. And there is a shower at the top of the stairs leading down to the beach! This is a rare comfort in Ikaria, which is famous for its natural beaches. We saw plenty of families here compared to other tourist-filled beaches. It is obviously a place preferred by the islanders.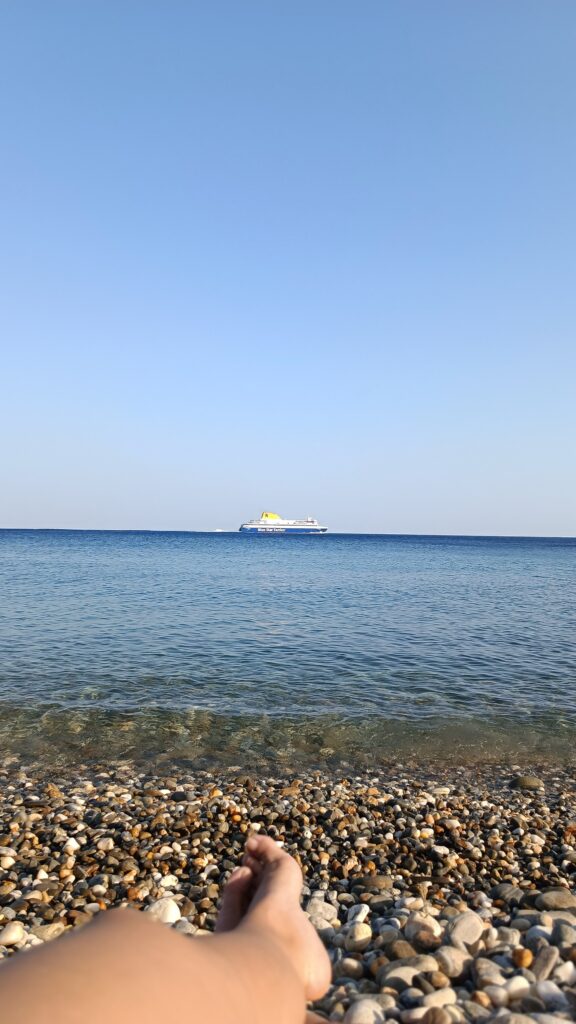 You must eat at Arodou Tavern at the same place! We chose seafood and local wine which was amazing. But it is famous for its goat meat, so we will try it next time.
Near to the north of Adanon, but inland towards the middle, the town of Raches is still on the must-see list. If you have time, the festivals of this place are famous. We couldn't catch it… In fact, as an island, Ikaria is famous for its local festival nights where people drink and dance every night until the morning. The biggest of these is held in Raches. This is also at the top of the next time list!
Armenistis is one of the places we enjoy the most for a pleasant sea break, for accommodation, and for a taste stop.
Kirki Rooms family-run accommodation in Armenitis is convenient and comfortable.
You should definitely eat at Mouragio Tavern in Armenistis. Everything is delicious!
Nas Beach is at the top of Ikaria's magnificent list too… This is also a piece of untouched nature. There are facilities above where you park, but there is no facility downstairs, only an elderly man who rents sun loungers & umbrellas. Famous for its sunset; it would be really nice to end the day here.
We especially wanted to experience a winery.. At Karimalis Vineyard, the vegetarian fixed menu is a feast of taste. The sunset here is also magnificent.
Since the town of Evdilos is the port of entry or exit to the island, you have to pass through. An hour or two walk on the streets is enough here.
So what can we buy from Ikaria…
First of all, know that Ikaria is quite expensive in terms of shopping and gas compared to the more easily accessible islands like Samos… But this is understandable as there is an additional cost for everything that comes to the island from outside. In particular, things such as clothing and accessories are both more diverse and cheaper in Samos, the neighboring island. But still, you can come across specially designed products in some boutiques on every island.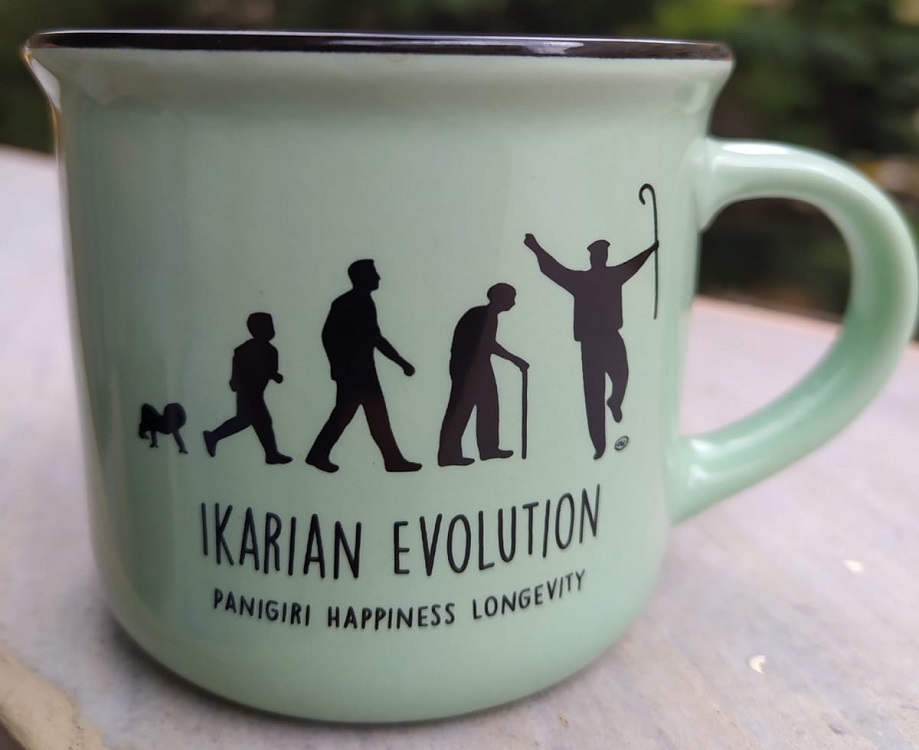 What we liked the most was the Ikaria lifestyle-themed products in Raches. Since our budget was limited, we bought products such as coffee mugs and glasses as souvenirs. I fell in love with a design necklace and bought it in a store run by a lady who was a fan of Istanbul. But we spent more time and money in the boutique we entered next to the Mouragio Tavern in Armenitis. As well as having very tasteful and selected textile products, we were especially impressed by the charm of the owner. When we were at the beach in the morning, our eyes had drawn to her elegant features, silky gray hair and tattoos on her back at her mature age. While we were curiously looking at the clothes on the hanger in front of the boutique showcase, we were more excited when we saw her inside. Fortunately, we bought one the linen dresses, not one of the silk and floral-patterned dresses… Because when we saw it on everyone's back in Samos, we said, "The municipality is giving out this dress for sure"; so the name "town dress" remained!
If you don't mind shopping, storing and transporting food and beverage, I definitely recommend you to buy Ikaria goat cheese and local wine. We had the opportunity to taste a variety of goat cheese in every meal. But it was the fried cheese we ate in Agios Kirykos, which is engraved in our memories with golden letters. They had grilled the goat cheese, which resembled halloumi but had a salt-free flavor, and poured a balsamic sauce on it. Goat cheese fried with kadai in Mouragio competes with this. But if I was served this fancy I would compete too! Our experience (emphasizing that we are not wine gourmets here) has been that the carafes we drank at the restaurants (we tried all of them red, white, rosé) left a more pleasant taste than the branded wine in the vineyard. But we couldn't find them to buy in the market. So if you do let me know!
And the secret of long life…
The island of Ikaria is the second longest-living place in the world (the first is the Japanese island Okinawa). İkaria was also famous as the exile island of Greece during the communist hunt. Let's not forget that it is also named after the mythological character Icarus. Apart from these three data, we also have geographical and terrain information and a lot of observations…
İkaria is a rugged island with 4 different types of soil (we can say that it is a rock type, one of which is slate and shines brightly on the south-west coasts) with plenty of mountainous / hilly and steep slopes meeting the sea. There is also an abundant supply of clean water. There is also goat meat and goat products in its cuisine as well as seafood.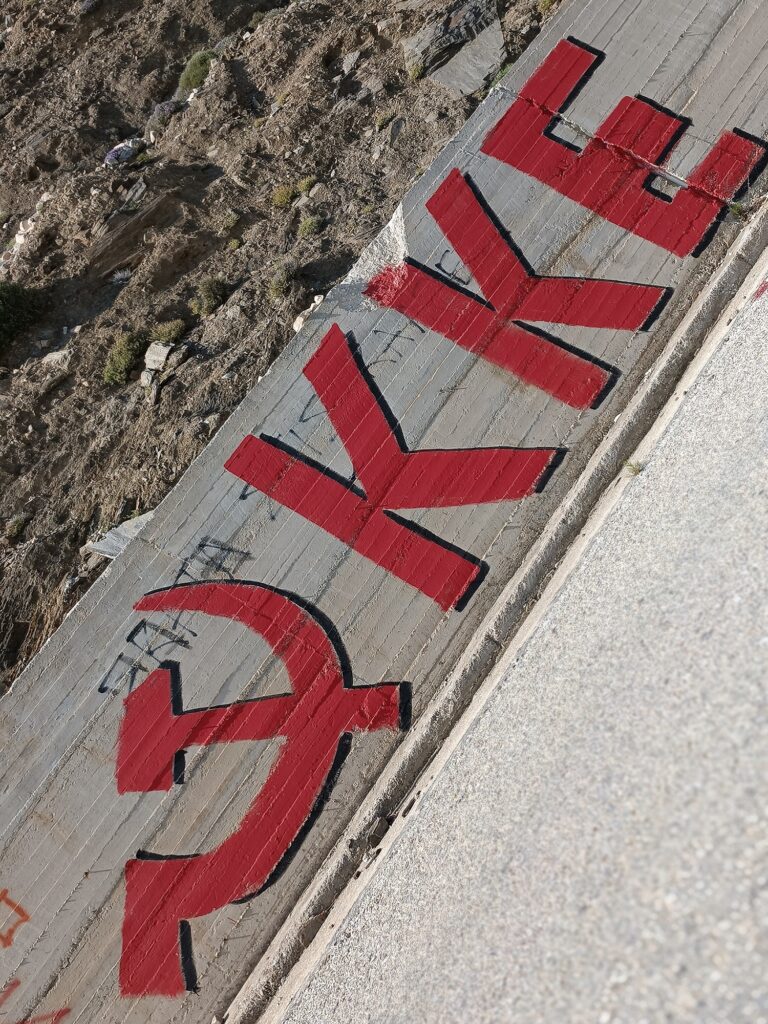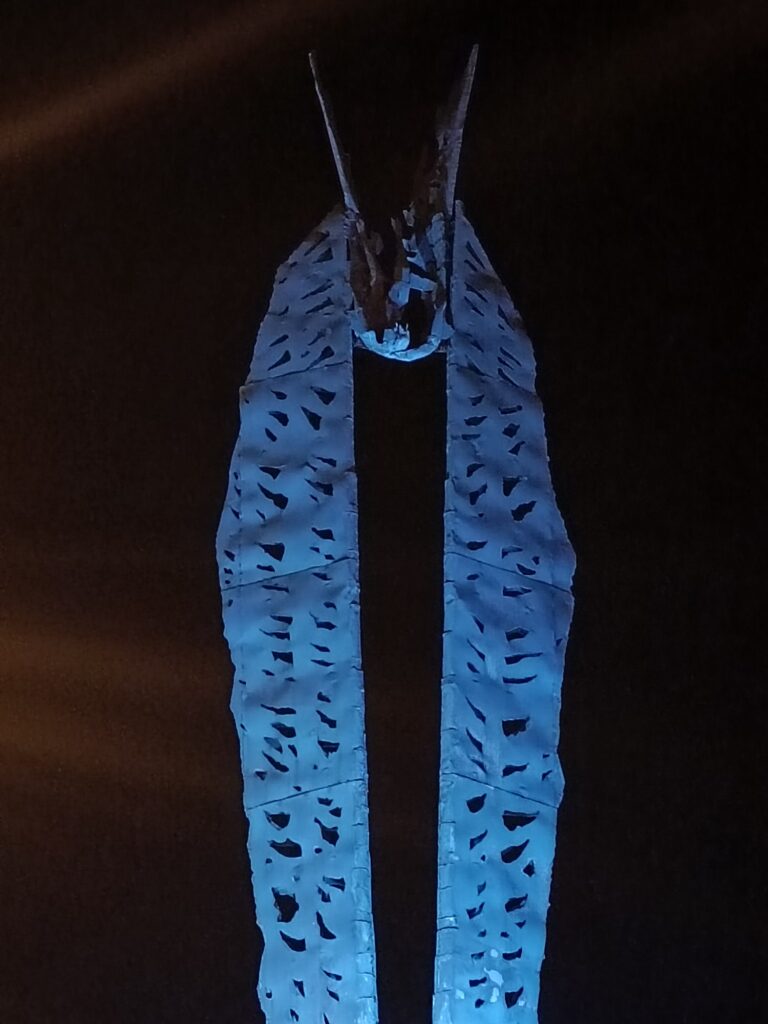 From the combination of all these, I draw the following conclusion… The islanders primarily eat healthy natural and high quality food, that's for sure. They walk profusely to move. There isn't much of a choice anyway, entering the house is uphill, leaving the house is downhill or the other way round. As we understand from the graffiti we see on the walls throughout the island, the sickle and hammer are still in fashion. Therefore, although not really communist, there seems to be a sensitivity about social balance and social justice. Well, we can also call the Ikarians the descendants of Icarus, the ascended human. Ikaria is the island of festivals where food and drinks go together and all kinds of island people of all ages play and dance until the mornings… In other words, it is a place where art is made not for art but for society and where enjoying life takes the lead. In the meantime, it does not hurt to swim in thermal waters.
In conclusion… The tools of modern life and consumer society, especially in cities, do not improve our lives while making us more civilized, comfortable, or even smart. Under their shadow, they suck our blood and feed off our energy. I'm not saying it's totally useless; but it looks like we took it too far! I think the secret of long life is to embrace and share what is best for us and show the middle finger to those who do not serve it. This is the İkarian way!
As they say in Vulcan…"mene sakkhet ur seveh" meaning "live long and prosper" 🙂